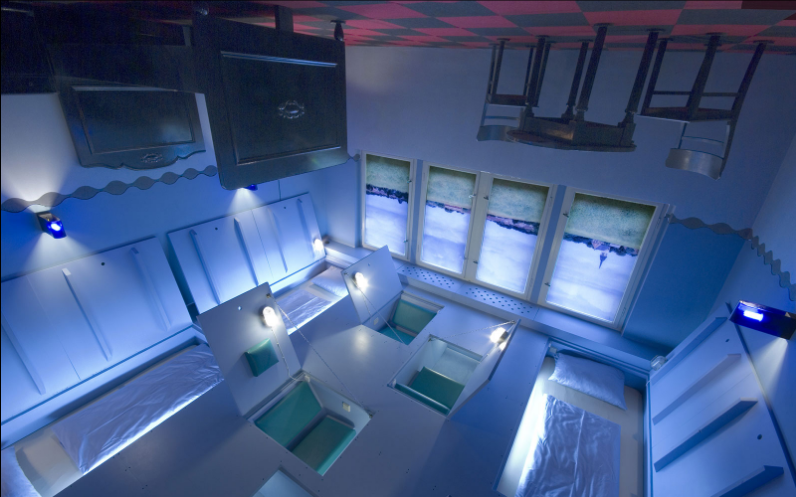 Tired of staying at the same boring hotels? Your average accommodation always seems to have the same artwork on the walls, the same fitness equipment, the same pool. But you're interested in something a little more exotic, like sleeping underwater, or in a coffin, or in a building that looks like a giant's discarded plaything.
In short, you're interested in staying at one of the world's most interesting hotels.
1) Propeller Island, Berlin, Germany (pictured above)
Essentially a museum in a hotel (or a hotel as a museum), Propeller Island is trippy with a capital T. With all sorts of wacky and really cool structural features in every room, such as a flying bed or a room filled with mirrors, you'll never experience anything like it anywhere else.
2) The Manta Resort, Pemba Island, Tanzania
The Manta Resort isn't just a beautiful island getaway. You can finally live the dream of staying in an underwater hotel!
3) No Man's Fort, Solent, Portsmouth, England
No Man's Fort was a naval fort built between 1867 and 1880 in the Solent, the strait that separates the Isle of Wight from the mainland of England. Originally designed to protect Portsmouth from Napoleon's forces, it's now a hotel, complete with an indoor swimming pool, two helipads, and the ultimate in privacy.
4) Magic Mountain Hotel, Huilo Huilo Reserve, Chile
Magic Mountain Hotel is just that: magical. It was built to look like a tropical volcano with a beautiful waterful flowing from the top, giving it a natural and fairytale-like quality.
5) Hotel Marqués De Riscal, Elciego, Spain
From the outside in Hotel Marques De Riscal is art. The exterior looks like a waving metal sculpture, and when you step into the interior, you will experience absolute modern luxury.
Image Credit: Lars Stroschen, courtesy of Propeller Island