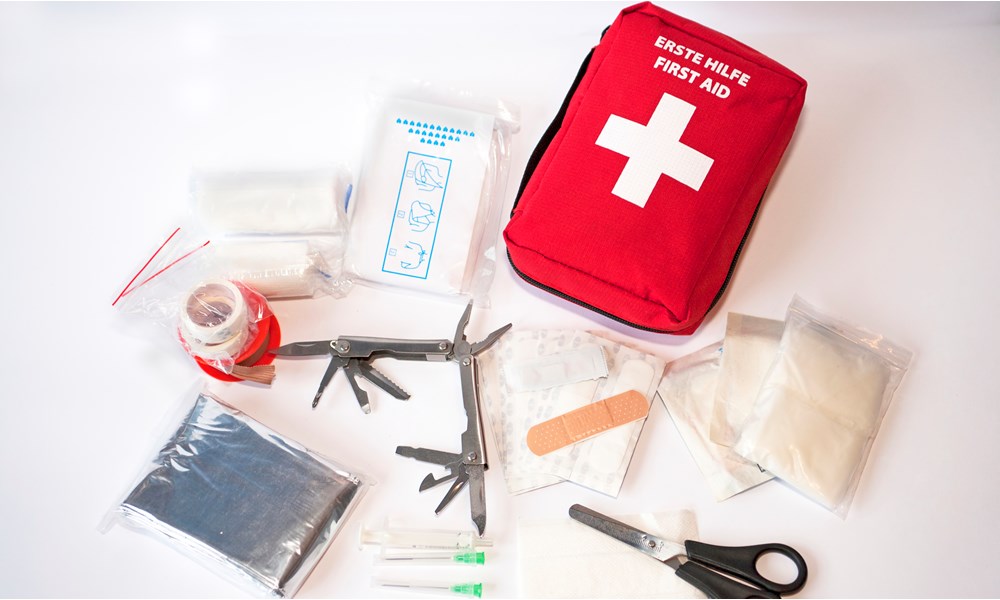 If you're heading off on a road trip, then it pays to be prepared. While it's vital that you ensure that the car is mechanically sound, there are also a number of other preparations that you need to make for the journey. Carrying a first aid kit is very important, particularly if you are going to be driving long distances in remote areas. Be prepared and think about what to bring in your road trip first aid kit with this guide from Rivertown Buick GMC.
Bandages and dressings. Ensure that your kit contains a variety of bandages and dressings. According to the type of injury and the part of the body that you have injured, you may need different sizes, shapes, and materials. Triangular bandages, elastic bandages of different widths, a variety of dressing pads, and adhesive dressings are all essential. Pack permeable adhesive tape, too, to help secure bandages and dressings in place. Non-adhesive, gauze dressings should be packed in case of a burn.
Items to keep wounds clean. Getting a wound clean and keeping it that way is critical to preventing infection. On a road trip, it may be some time before you get to a medical professional. Carry disposable latex gloves so that the person administering the wound doesn't contaminate it. Antiseptic hand wipes ensure that you can make hands and other objects sterile. Pack saline solution to rinse a wound clean, and triple-antibiotic ointment to apply to certain wounds to keep infection at bay.
Pain relief. In the event that somebody is injured, taken ill, or just suffering from a migraine, items to relieve the pain are essential. Pack ibuprofen to relieve minor aches and pains. Soluble aspirin are particularly effective for tooth pain. You can purchase pads to apply to insect stings, which reduce swelling and alleviate pain. Topical pain reliever is effective against muscular strains and injuries, and a chemical cold pack could also be very useful.
Tools and gadgets. In the middle of a road trip, it's surprising how useful certain objects can be when tending to a wound. A pair of tweezers will be very useful, for example, for removing splinters or small shards of glass. Zipper-closure freezer bags can be a useful way to store items as well as moist wipes for cleaning up. Pack a thermometer to check on an individual's temperature, and pack a small flashlight so that you can administer first aid in the dark. A small, sharp knife can be useful in a variety of ways, too.
Remember that first aid should not be administered unless you know what you are doing. When preparing a first aid kit for your road trip, take the time to learn basic first aid techniques, so that you don't have a great supply of equipment that nobody knows how to use.