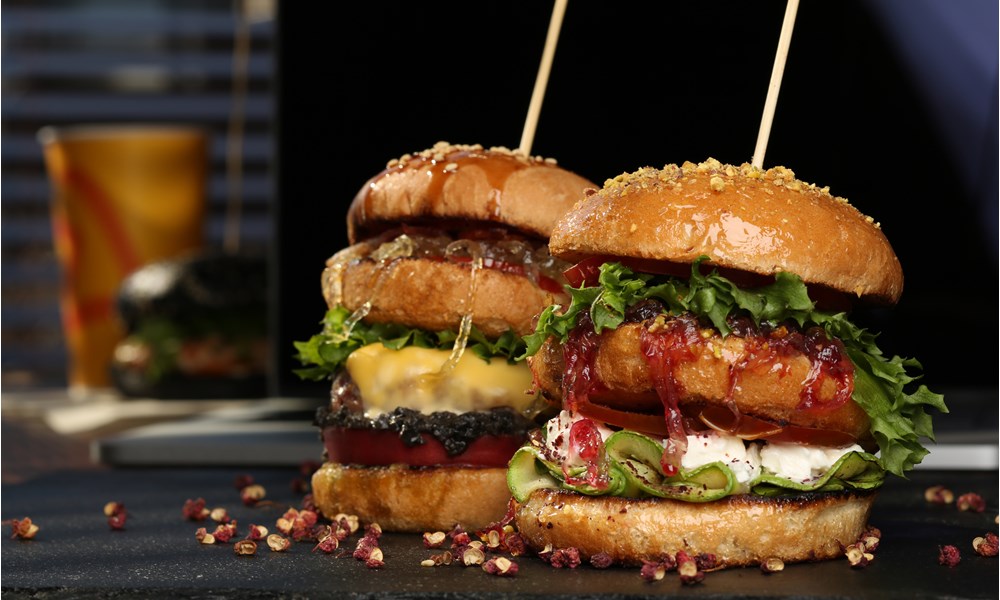 It's no secret that we Americans love to eat. We also love being the best. Perhaps that's why food challenges have grown in popularity around the country. Restaurants get to show off their signature dishes, while hungry patrons vie for the glory of besting these challenges.
Whether you're simply looking for an edible adventure, are a competitive eater, or just happen to have a really, really big appetite, you won't want to miss these insane food challenges.
The 72 oz Steak Challenge: The Big Texan, Amarillo, Texas
Whoever said everything is bigger in Texas sure wasn't kidding. The Big Texan is home to the 72 oz Steak Challenge. Diners with particularly carnivorous appetites are challenged with consuming this 72-ounce steak, a buttered bread roll, a shrimp cocktail, a baked potato, ranch beans, and a salad. Do so in one hour or less and the meal is free.
The Big Fat Ugly: Fat Sandwich Company, Champaign, Illinois
It might be easier to list what's not in the Big Fat Ugly, but if you're in the mood for one massive sandwich – one consisting of two rolls; four cheeseburgers (yes, you read that correctly); double cheesesteak; chicken cheesesteak; gyro meat; grilled chicken; bacon, sausage; mozzarella sticks; chicken fingers; chicken nuggets; mac n cheese bites; fried mushrooms; jalapeno poppers; pizza bites; onion rings; mini corndogs; hash browns; American cheese; ketchup; and mayo – this is the challenge for you. Did we mention you have 15 minutes to eat it all?
Moose Omelette Challenge: Moose McGillycuddy's, Honolulu, Hawaii
Breakfast is the most important meal of the day, it also might be your last should you attempt to eat the "Moose Omelette Challenge at Moose McGillycuddy's. This breakfast-of-champions-sized omelet is filled with bacon, sausage, mushrooms and melted cheese, and served alongside breakfast potatoes and toast. Finish it in under an hour and get a free T-shirt and a picture on their Wall of Fame.
Inferno Soup Challenge: Nitally's Thai-Mex Cuisine, St. Petersburg, Florida
For the brave souls that like their food challenges on the spicy side, we give you the Inferno Soup Challenge at Nitally's Thai-Mex Cuisine. Not only is this 48-ounce bowl a massive amount of soup, it contains 12 kinds of peppers from the around the world. The spiciest among them is the bhut jolokia, also known as the ghost pepper. As you can imagine, only a few have succeeded in devouring this scorching bowl of soup in the allotted 30-minute time limit.
Godzilla Roll: Sushi Delight, Lomita, California
One look and your stomach may just run in fear of this supersized sushi challenge. Sushi Delight's Godzilla Roll is not for the faint of heart. It consists of a six-pound roll filled with various fish and topped with a special blend of house sauces. The prize, you ask, for completing the challenge in under 60 minutes? A T-shirt, bragging rights, and everlasting glory on the restaurant's Wall of Fame.